01 Dec

At Home with the amazing Chef Mark Phillips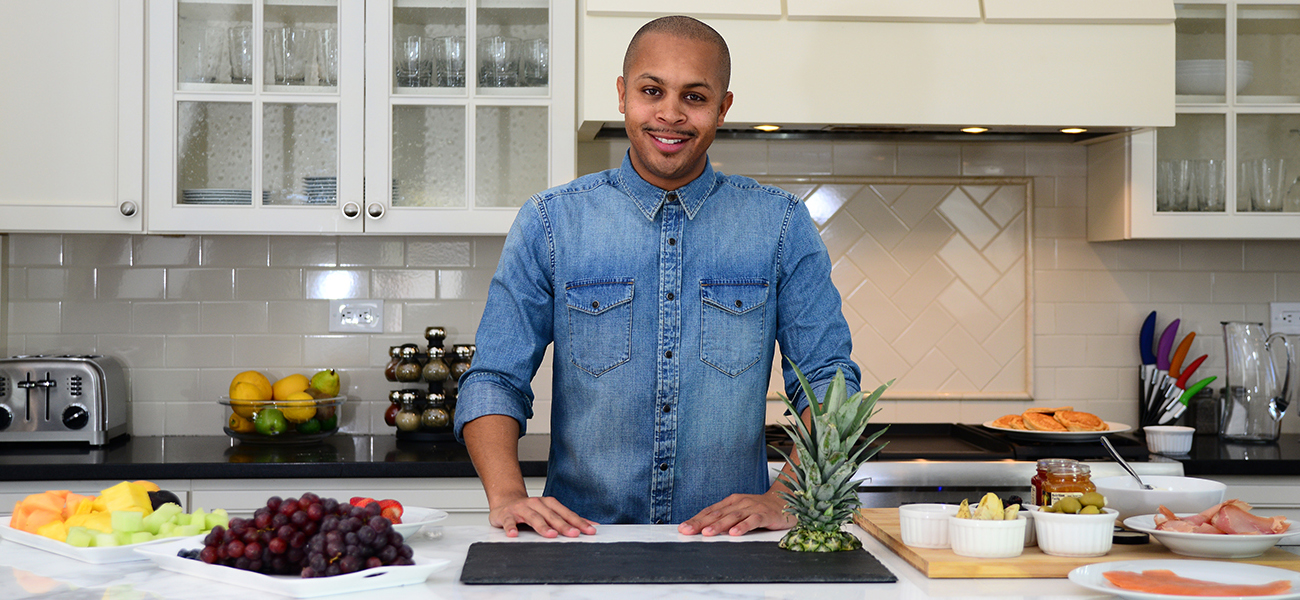 Chef Mark 'Southern Temptation' Phillips is an artist who tantalizes both your taste buds and your visual senses. Mark Phillips is an artist who stands on a principle, "Art and Food are one". Delighting a broad and eclectic range of patrons, Mark has been mixing, matching, and making delectable cuisine since early childhood. Your palate will be charmed by his various styles of cooking which range from meal-prep, full-service catering, personal chef experiences and brand activation. Chef Mark Phillips was born and raised in Winston-Salem, NC where his inspiration for food began. He fine-tuned his culinary skills at Johnson & Wales University (North Miami, FL) obtaining an A.S. degree in Culinary Arts and a B.A. degree in Food Service Management, then enhanced his expertise with various catering companies and eventually becoming an executive chef and now the creator and owner of Southern Temptation.
Chef Mark delights the taste buds of Southern Temptation national clients such as; Stella Artois, Soho House and McBride Sister Wine.  Actress Jasmine Guy, pro basketball player Kevin Durant, pro baseball player Matt Kemp and legendary basketball player Dr. J, Grammy Award Winner Tasha Cobbs,  Atlanta elite like; Housewives of Atlanta: NeNe Leaks and Porsha William. Hollywood Diva's Lisa Wu, Towanda Braxton of The Braxton's and R&B Divas KeKe Wyatt to name a few. Chef Mark has activated brands for Courvoisier, Cîroc, McBride Sisters; using their products in his recipes exclusively for their brand and clientele.
He has appeared on Atlanta & Company showcasing his culinary techniques and has been acknowledged in Dining Out Atlanta (Spring 2010 & Fall/Winter 2012, Spring/Fall 2013) and Jezebel Magazine. As a culinary enthusiast, Chef Mark continues to shine in what he does best – great food, while staying fresh and on the cutting edge expanding into healthy meals, gluten-free & paleo.  Chef Mark Phillips believes it is key to be conscious of the foods we put into our bodies and he takes pride in providing culinary excitement that are responsibly raised.
"Cooking is a passion of mine, and so is the arts; for me, the two are one. My first impact on culinary started in my home, growing up in Winston-Salem, NC. Food was/is an intricate part of my family, bringing people together from all walks of life. I started in home economics, then career classes in high school, graduated from Johnson & Wales University, worked my way up the ranks, and now I own and operate Southern Temptations. I provide catering, private events, consulting, and brand activation."
What are five words you'd use to describe yourself and your work ethic?
Determined, Passionate, Hardworking Student and Fortunate
Why are you passionate about being a chef?
When people ask me, "What is your specialty" normally, I would say hors d'oeuvres, but it brings people together over the love for food. It's the layering of flavors, blending of ingredients, and marrying of cultures. I love our industry, and it's no easy task, but it's a blessing to do what I love.
Are there any chefs you admire? What do you admire most about them?
Emeril, Kwame, and Marcus Samuelsson are three of my favorite chefs because of their down-home personalities. Each comes from a unique background, but their passion for food and people inspires me. Of course, local chefs here in Atlanta do the same thing, and it's motivating.
What is your favorite dish to cook and why?
Pasta is one of my favorite dishes; although I have gluten sensitivity, I still love making sauces from scratch and even pasta. It's something about fresh herbs, creams, tomatoes, and cheese that sends me over. Oh, and the details of hors d'oeuvres add to my artistic side, so those are my favorites as well.
Get your copy…
Amazon | Barnes & Noble | Lulu 
At Home with Chef Mark Phillips is not only a cookbook but also a culinary crash course with kitchen and wine education, tips, delicious recipes, and my story on the journey of bringing this cookbook to life.
Chef Phillips' Social Media…
Website | Instagram | Facebook